The possibility of infinite decorative.
Design (high design), product form, functionality, small batches, quick delivery, environmentally friendly… At NIS, with our original technology and know-how, we choose from every available decorative method to propose the most appropriate method for each customer.
Design, development, proposal & production, and sales for special printing of every kind of product. Providing sales and know-how related to special printing equipment and materials.
In-mold transfers (Transfer at the same time as molding) system
On-demand transfer foil
NATS (Air-heat Transfer System)
Contract Processing of decoration
MUFG Bank, Ltd. Sakai Branch
Representative Director:Yasuyuki Sekiguchi
Executive Director: Keiko Ichihara
Director: Tetsuya Kobayashi
Director: Yoshihiko Shibue
Auditor: Tsutomu Sudo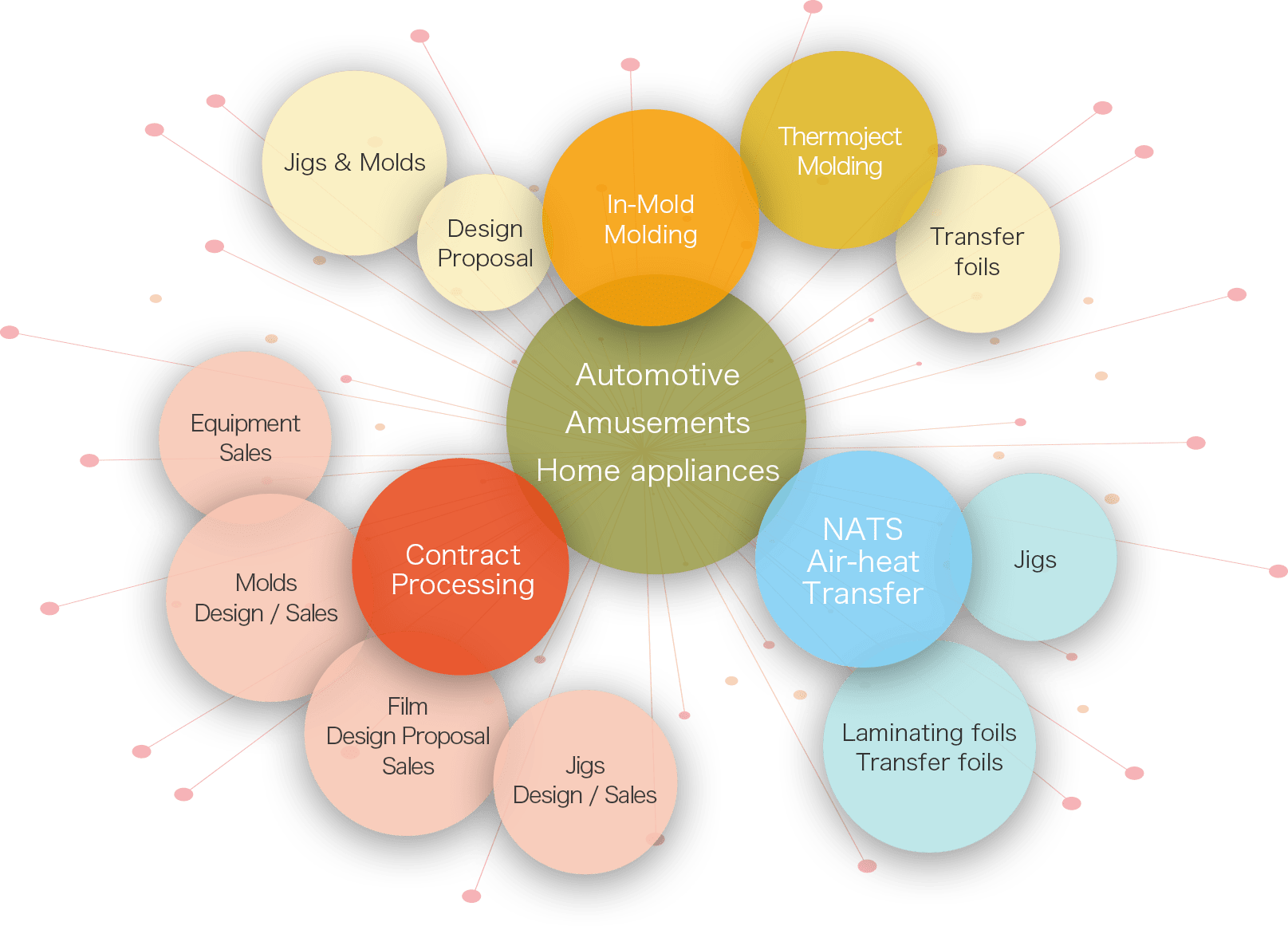 Planning, Design, Development, Production, Sales
Focusing our efforts on developing 3D decorative systems, and proposing the best decorative methods to meet our customers' needs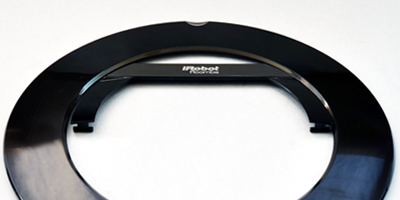 A special method for high-precision alignment on 3D curved surfaces.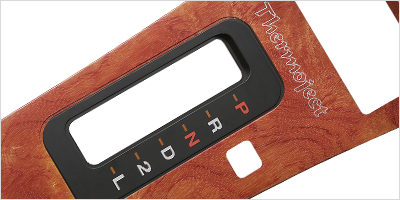 A special method for decorating large and deep-drawn shapes.
On-demand Transfer Foil System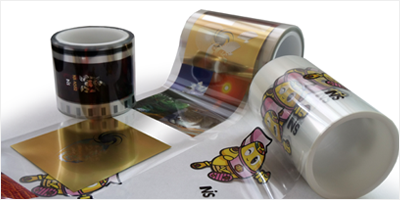 A special method for many varieties and small lots.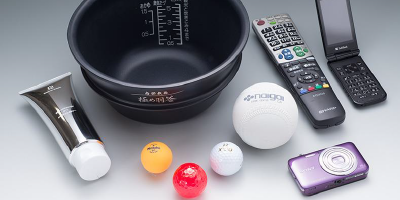 Printing on 3D curved surfaces, concave and convex parts.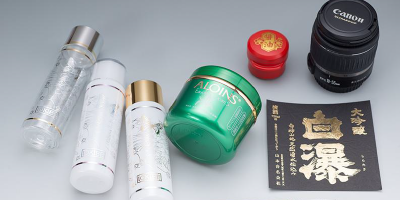 Partial printing such as metallic tones on flat and curved parts.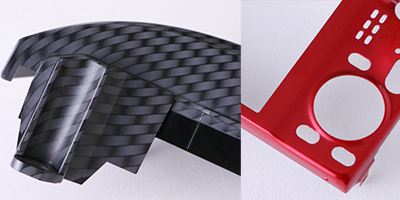 Value added along with plastic molding!Elaborative design, high functionality and quick delivery.
What is an In-mold Transfer System?
An in-mold transfer system is one type of IMD methods which plastic injection molding is conducted after a pre-printed transfer foil is positioned in the mold (high-accuracy positioning), achieving simultaneously transferring onto the plastic surface while molding .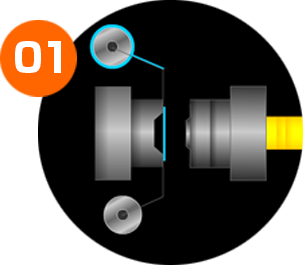 Foil feeding and positioning.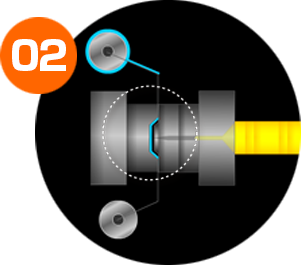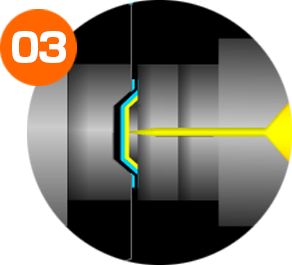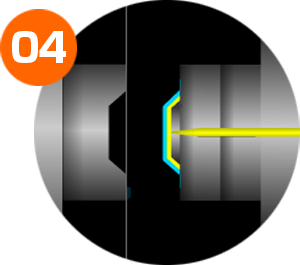 Mold opening and product removal.
NIS In-mold Transfer System – Merit/Feature
Point.1
Surface decorating Simultaneously when injection molding
Multi-color print decoration is possible Simultaneously when injection molding achieving a significant reduction of the number of manufacturing processes. And yet the molding cycle is still as fast as that of a normal molding process.
Point.2
A wide variety of design requirements can be satisfied.
With the use of metal evaporation, pearl pigment or metallic ink, high-quality texture equivalent to plating or painting can be obtained, satisfying a wide variety of design requirements.
Point.3
It is possible to decorate 3D shapes.
It can also handle complicated 3D shapes, concave and convex surfaces such as grooves and protrusions, and textured surfaces.
Point.4
No need for secondary processing
There is no need for overcoating and heat processing after the in-mold transfer process, eliminating risks of curves or bends caused by reheating.
Point.5
More functions added on the decorated surface
In-mold molding can add functionality such as a hard coat to the decoration. It has excellent physical properties such as surface hardness and wear resistance.
Point.6
Environmental friendly
Different from painting, plating or printing, this is an environmental friendly dry process requiring no solvent.
A further challenge to in-mold! Decoration to ultra-deep drawing 3D shape!

3D shape products became possible to be used IMD. And not only high position accuracy,But also a various colorful decoration became possible.l
On-demand Transfer Foil Printer
Value added along with plastic molding!Elaborative design, high functionality and quick delivery.
What is an On-demand Transfer Foil Printer?
To print a traditional transfer foil, proofreading for printing must be first conducted based on electronic data of design image, and then a printing plate needs to be produced. Such printing plate is not necessary for the on-demand transfer foil printer, which enables printing of a transfer foil directly from design data.
If you have the design data, you can print the transfer foil immediately. In addition, vapor deposition foil can be printed in the same way as normal colors. The gradation of the designed vapor deposition foil has reproducibility.

On-demand transfer foil printer – Merit/Feature
Point.1
Transfer foils can be produced from a single piece to small-lot
production.
Even a single piece of transfer foil can be printed in the same way as a PC printer.
Point.2
No printing plate is required.
No printing plate needs to be produced, contributing to quick delivery and cost reduction. This also allows rapid responses to urgent design change.
Point.3
Vapor deposition foils can be printed at the same time.
Allows for a complex design such as printing of color gradations on a patterned vapor deposition foil, which previously had been almost impossible.
Point.4
Complete dry process
This process is an environmentally friendly method that uses no solvent or ink.
Point.5
Possible for printing of long foils
Traditional methods is impossible printing of any pattern longer than the circumference of the printing plate. However, This method can materialize a long pattern up to 1.47m due to no printing plate being required.
About NATS (Air-heat Transfer)
Called in the industry a 3D Surface Decorating Machine or a Vacuum/Pressure Molding Machine. It is also used overseas under the name Out Mold Decoration (OMD) which is divided into Out Mold Release (OMR) transfers and Out Mold Forming (OMF) laminates. This technology attaches transfers or laminate film to a three-dimensional product without wrinkles, and with various designs, this method has been attracting attention recently and talk of a change from the Wet to a Dry method.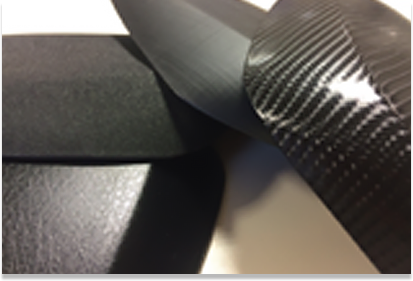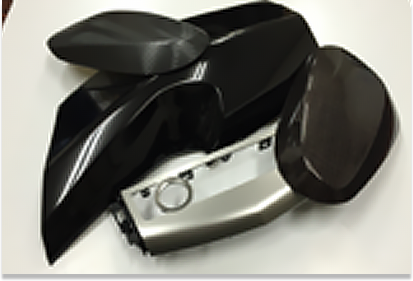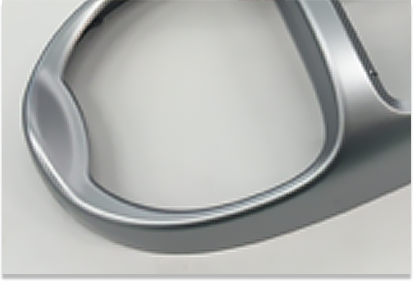 Features of NATS (Air-heat Transfer)
Possible to production at transfer or laminate
Adds value to decoration by using film that is good texture
Achieves an efficient and high quality process through the use of Super Steam
Reduces heat stress by using a special heater
Steady production through efficient heat application even to a products undercut part
Can be used with all kinds of plastic, aluminum, magnesium, glass, etc.
Full traceability by means of data logger management
Large-scale production lines, such as painting and water printing lines, are unnecessary
NATS Process (Transfer) + Pad Printing (Backlight)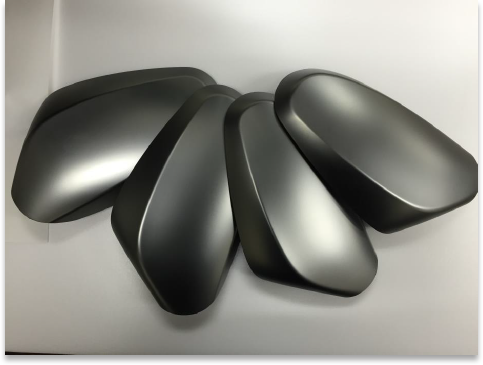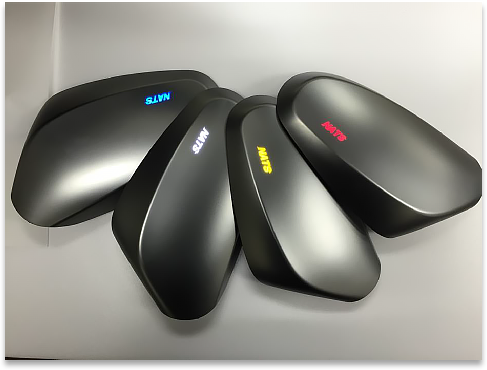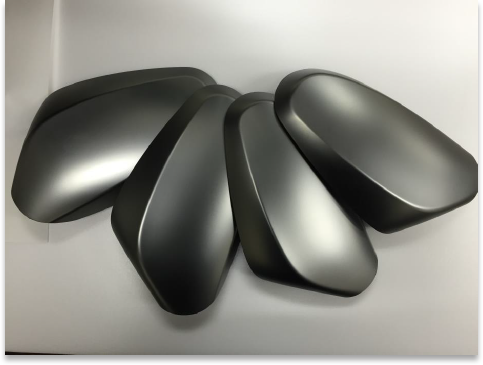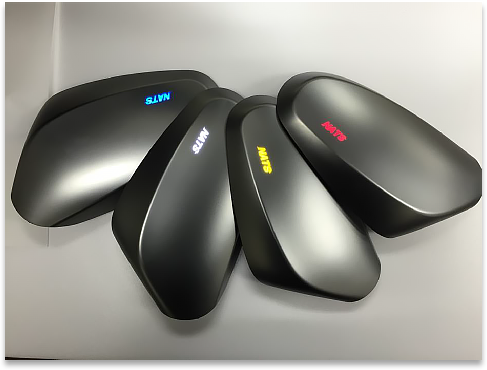 NATS Process (Transfer) + Hot Stamp + Pad Printing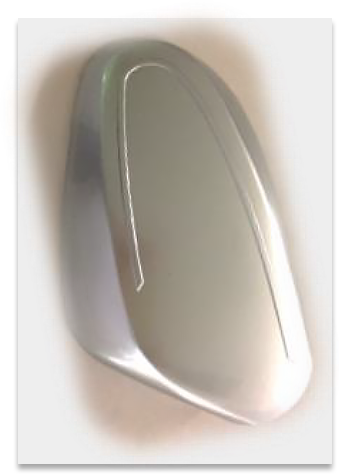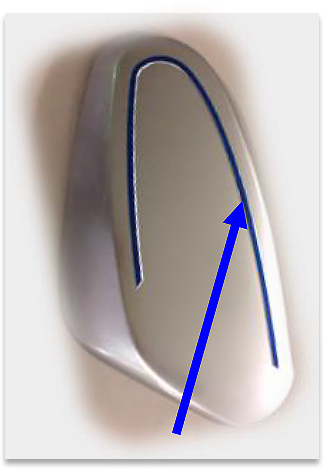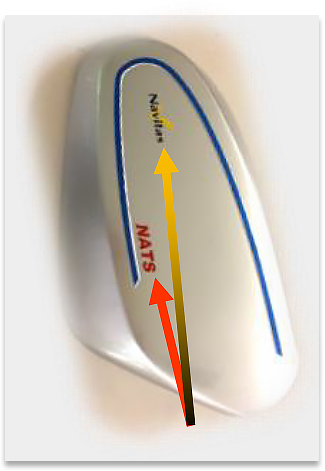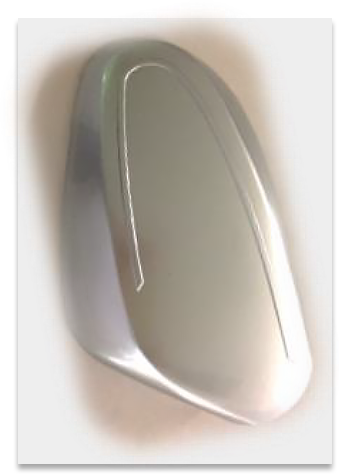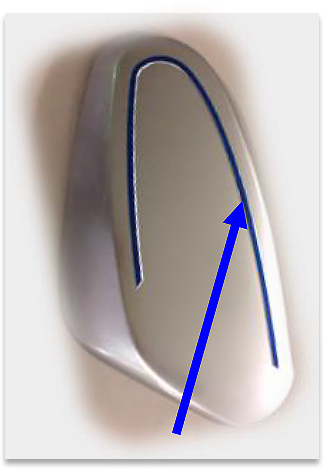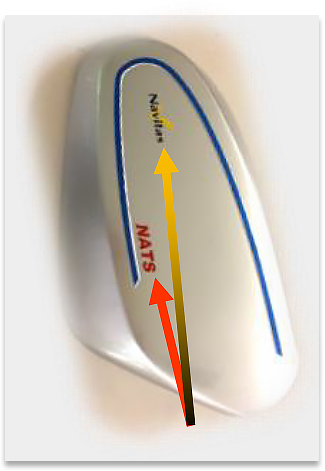 Questions for our company & enquiries related to our contract process
✳︎
are required items and must be entered.